GALENTINE'S BRUNCH
Sunday, February 13, 2022, 10 a.m. – 2 p.m.
VALENTINE'S DAY
Monday, February 14, 2022, 5 p.m. – 10 p.m.
KALOS
A Restaurant at The Oxford Hills
DELICIOUS EXPERIENCES
Crafted From Local Ingredients
Local. Delicious. Unique. Everything Chef Eric Boyar and his team have prepared for you promises to be as memorable as it is tasty. The food at KALOS is a celebration of local ingredients and culinary vision—you won't leave disappointed.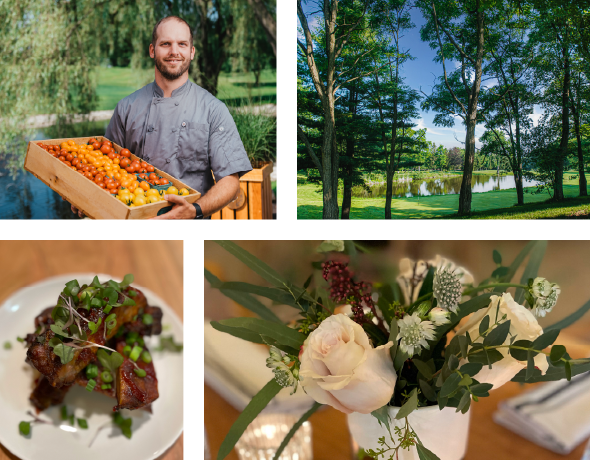 KALOS is closed until January 25, 2022.
Please note that The Oxford Hills and KALOS Restaurant is closed from January 1 until January 25, 2022, to give our staff a richly deserved break. This pre-planned facility closure will allow our staff to recharge their batteries and take some well-earned rest after a busy 2021.
KALOS will re-open for business starting January 26, 2022, at which point we will resume our standard services and opening hours (Wednesday through Saturday from 5 PM to 9 PM, and Sunday from 5 PM to 8 PM).
Our top priority is the health and safety of our staff, members, guests, and community, and our team is devoted to providing a safe dining experience that meets provincial COVID-19 regulations set out by all regulating bodies.
Please keep in mind that proof of vaccination is required to enter KALOS. Each visitor aged 12 years and older must present proof of full COVID-19 vaccination along with government issued ID prior to entering KALOS. We are unable to accept proof of a negative COVID-19 test for admittance (except for guests with a verified medical exemption). Please have your proof of vaccination easily accessible for quick and easy entry to KALOS. As per Ontario Government regulations, mask wearing is mandatory during entry and exit, and while not seated at our establishment.
CONTACT US
Please Complete the Form Below to Contact Us. Reservations can only be cancelled by phone.
KALOS
A Restaurant at The Oxford Hills